With so many choices and sizes of car, truck, van and SUV seat covers on the market picking the right seatcovers can be confusing and somewhat frustrating. Hopefully this guide will give you the information needed to make a better choice and insure a proper fit with the design and fabric desired. Because of the many newer model seat types on the market there is really no universal seatcover that will fit all seats. However, there are different cuts of covers that will fit different seat styles readily available. The 2 basic front seat styles are:
Standard High Back bucket seat and Standard Low Back bucket seat
with adjustible headrests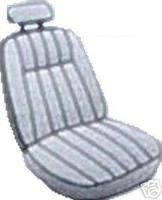 A standard high back seat cover will fit both seat types but you would need to cover the adjustible headrest with the seat as one unit. Approximately 85% of the cars on the market will have the standard low back with the adjustible headrests and many people will choose this fit due to the easy installation of the covers. If you adjust your headrest up and down for different drivers you would need to purchase a standard low back seatcover with headrest covers to match. This cut will allow for the different headrest positions.
There are some variations in these 2 seat styles by the addition of armrests.
Standard Low back w/adjustible headrest Standard Low back w/adjustible headrest
1 armrest inside or outside of seat Dual Armrests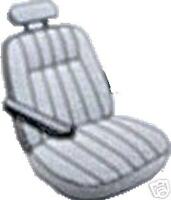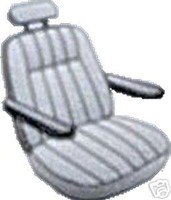 Standard High Back Standard High Back
1 armrest inside or outside of seat Dual Armrests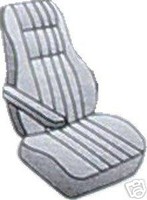 Many seat covers will have a stretchy polyester type fabric in a coordinating color running down the backside of the seat. If this fabric runs below the armrests it may bunch when the covers meet the armrests. It is best to consider purchasings a cover with only a 1/2 backside to 3/4 to prevent the bunching up of fabric at the point of the armrest. If you find a pattern that you really like and it is not available in the cut you need for the armrests, it is possible for you to make some minor alterations by cutting the the side seam up to the armrest and pinning on the underside. Most seat cover fabrics are designed so they can be cut without running or fraying. Covers can be purchased that will allow for the armrest by not having the full backside or made with velcro or zippered sides.
The following seat types are also found on vehicles and are mistaken for the standard cuts above. This seat type will have a very narrow (8-12 inches wide) slightly squared top. Because of the narrowness it is best to purchase a seat cover that will have a narrower top.
Contoured Sport High Back Contoured Sport Low Back
with adjustible headrests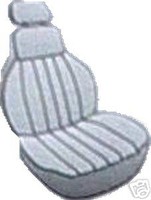 It is not uncommon for vehicle manufacturers to make more than one seat type in a specific year, make and model so look at your seats closely before purchasing your seat covers. Also take into consideration the costs. Ready made covers are economical and easily removed for cleaning. Custom covers will cost considerably more and will not necessarily fit better on standard seat types. If you have a seat type not even close to the above seats it will be necessary for you to purchase custom seat covers to insure a good fit.
Do not hesitate to contact us with any questions you have!
E-mail address: info@seatcoverconnection.com
Telephone # (928) 875-8817